Was your Facebook wall filled with angry, resentful memes and comments about NOT shopping this Black Friday? Here are some places where you can shop to your heart's content, without making a single person work on their holiday and without feeding into corporate greed. You don't have to limit your shopping to Black Friday, either!
There is an assumption that anyone making money during the holidays must be a huge, corrupt and heartless corporation. Workers are forced to work on Thanksgiving Day, at the expense of family time, and the only ones who profit are the already-wealthy CEOs. About eight years ago, the concept of "Small Business Saturday" was started, to counteract the huge business greed. (Did you know that Small Business Saturday was started by corporate giant American Express?)
Why not just choose to do your holiday shopping at small businesses online? Your local businesses probably won't be open on the holiday, but there are plenty of struggling business owners who have been working overtime for weeks just so they can take the holidays with family… and you can shop without guilt. By supporting an online small business, you're keeping some poor soul from needing to find a minimum wage job at a corporate box store just to make ends meet!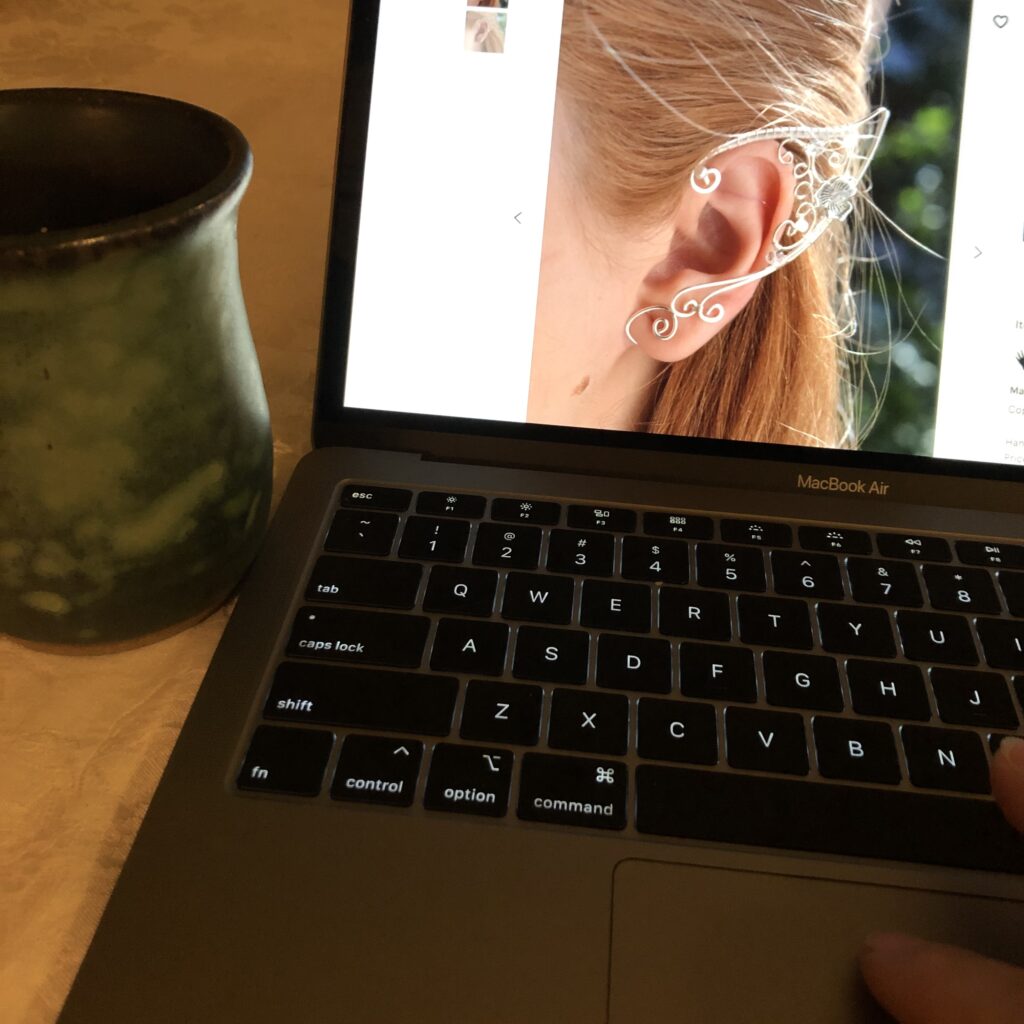 1. Etsy
If there is one place you can go online where you are pretty much guaranteed to be supporting small, or even micro- businesses, it's Etsy. Even if you've heard complaints that Etsy has not stayed true to its roots in demanding exclusively handmade goods, the people selling there are small business owners. (Some of the items sold there are imported, factory-made goods.)
According to Etsy, 79% of their businesses are considered "micro," meaning that they are run by a single person. They also say that 97% of those businesses are run from home, which means that, by supporting them, you are very likely supporting moms staying home with their kids. (For more about this, check out https://dashboards.mysidewalk.com/etsy-economic-impact-1532038450.)
An Etsy study last year revealed that Etsy businesses contributed 4.7 billion USD to the economy. (https://smallbiztrends.com/2018/11/2018-etsy-statistics.html) In case you were going to ask: Yes, Etsy is a corporation. But they take small commissions from sales to maintain their efficient search engine and advertising efforts. The Etsy corporation is just a platform for lots and lots of individual small business, and you can feel guilt-free about shopping there.
If you haven't checked out Etsy before, here is a great place to start: Black Friday at Etsy.
2. Amazon
I'll bet you didn't see that one coming! I know, I know. People love to hate on the Amazon corporate giant. The good news is that Amazon is, like Etsy, a platform for thousands of smaller businesses who count on Amazon to help them sell their wares.
According to this Forbes article, Amazon credits small businesses with almost half their total sales. In addition, Amazon invests billions of dollars in their Small Business Awards program, encouraging new small business owners to take advantage of the opportunities Amazon provides for success.
Many online sellers have learned the hard way that shoppers are reluctant to buy from a company they've never heard of. When businesses list their goods on Amazon, customers trust that their money isn't disappearing into a scammer's pocket somewhere and they'll really get what they ordered.
Multiple purchases go through a single shopping cart, even if they are from many different small businesses across Amazon.
Most importantly, the Amazon search engine can't be beat! Customers know they can find it on Amazon if it's sold online. The giant search engine also helps customers comparison shop for the best prices.
If you are concerned about buying from smaller businesses, look for the link to a seller's home page link. It will be right under the title, and will take you to the seller's homepage on Amazon. You can see what sorts of things they sell on Amazon. The one thing you can't do is follow a link away from Amazon to check out an independent website for that company. Amazon doesn't want you taking your business away… but that doesn't stop you from typing it into a Google search, does it?
3. Amazon Handmade
This division of Amazon ensures that you are purchasing handmade goods, and never factory-made. It's newer than Etsy, and a lot of people have responded negatively, seeing it as one more case of Amazon trying to take over the world. What's great about Amazon Handmade, though, is that they are far more strict than the Etsy platform about how products are created. The search engine on Amazon is far more sophisticated, as well, and it's easy to find what you're looking for.
To find Amazon Handmade products, simply go to the Amazon shopping page and type "Handmade" into the search bar. (Or look for "Handmade" on the pull down menu to the left of the search bar. Here's a link to a beautiful holiday tree skirt kit on Amazon Handmade:
4. Facebook
Another surprise? Lots of bad press lately about how this online giant is misbehaving. What you may not know, though, is that it is one of the least expensive and most productive places for small businesses to advertise online. The very thing that has people upset, with Facebook collecting all kinds of data on the online habits of its users, makes it a really efficient way for small businesses to reach exactly the people most likely to be interested in their products.
What that means for you, the consumer, is that a visit to Facebook will very likely have ads for things you've already been thinking about buying. Don't let that creep you out– it's really a good thing. You are unlikely to see ads on Facebook for products you find offensive, have absolutely no interest in, or would never buy.
Lots of small businesses are counting on Facebook ads and their Facebook business page to inform potential customers about their products. How does an artist who makes crazy, one-of-a-kind handmade light sculptures find customers who would otherwise never see their artwork? By targeting Facebook ads at people who are interested in the same kinds of things that current customers are interested in. When you see Facebook ads, the chances are very good that you are looking at a small business. The big guys just buy up ad space on television, and wouldn't waste their time with Facebook.
There are over 60 million active business pages on Facebook. Chances are good, you're already following some of your favorites. You can follow as many business pages as you like, and all it costs you is the calory spent in clicking the "Follow" button. You don't get bombarded with emails or notifications, but the business is far more likely to be successful with more followers. You are, however, more likely to be among the first to learn about sales, coupons, or giveaways from brands you like if you follow them.
This weekend, when you check in on your friends on Facebook, don't forget to look at pages you are already following there. Those folks may have a shop on their Facebook page, or at least a link to their sales page on Etsy or elsewhere online, and are hoping you'll remember them when you're doing your holiday shopping.
---
While you're boycotting the big, heartless corporations this holiday season, don't forget all the little guys online, struggling to make a business from home. Don't neglect your local stores, of course! They need you, too.
Have a very happy holiday season!
---
Copyright © 2019 Kelley Adams.  All rights reserved.