Do you already know your way around a spinning wheel? Understand the ins and outs of weaving? Have knitting wrapped around your little finger? 
You've come to the right place to learn more and polish your skills. Be sure to click on links you see on these pages. They'll take you to some wonderful new online sources for classes, videos, materials, and more!
Spinning Videos:
Spinning From the Fold:  A technique for spinning a smooth yarn from long fibers, such as   Lincoln longwool, Border Leicester, or Mohair.
Spinning Mohair Lock Boucle:  Spinning a lumpy novelty art yarn with curly locks.
Spinning: Navaho Plying:  A technique for making a three ply yarn from a single strand of yarn.
Spinning From the Fold
Sometimes a very long fiber is difficult to control in handspinning. The yarn tends to have thick and thin spots, where the long fibers enter the drafting triangle with blunt ends all at once. One way to make spinning long fibers easier is to spin from the fold.  The fibers are half as long, there is a tidy drafting triangle over your index finger, and it's much easier to control how much fiber goes in than when spinning long locks from the tips.
Spinning Mohair Lock Boucle:
A very lumpy, interesting novelty yarn, this boucle uses shiny mohair locks to best advantage. It's a great technique for any curly or long fleece, such as Wensleydale, Cotswold, Lincoln longwool, Border Leicester, Suri alpaca, or Mohair. Dyed locks are stunning spun with this technique.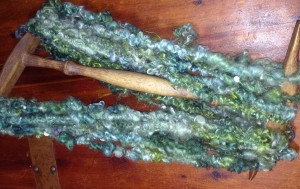 Spinning: Navaho Plying
This technique makes it possible to spin a three-ply yarn from a single strand of spun yarn. It isn't necessary to have three bobbins of yarn– they never seem to come out even in the end, anyway. This method of plying also preserves color changes in a variegated yarn. Whether it was dyed in the wool or dyed in the yarn, plying from two different ends or from different bobbins would result in a merled yarn, with the different colors twisted together. Navaho plying will maintain a single color.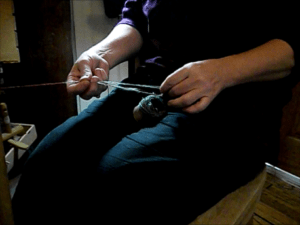 Diagram of how to do a Navaho Ply: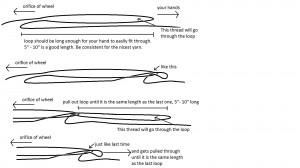 Comments are always welcome here at SlowYarn! Tell us what you think, share your ideas, or comment on the content. Or you can contact me directly at Kelley@SlowYarn.com.  
Thanks!
–Kelley
Copyright ©  2013-2015 Kelley Adams.  All rights  reserved.
All text, photos, and graphics are the property of Kelley Adams, unless credit is given to an alternative source.