All of the fiber arts are (pardon the pun) interwoven.  Spinning, weaving, knitting, crocheting, dyeing, and more; most fiber artists don't just do one of these. Everybody has a favorite, but they usually get inspired to try new things once they've mastered one. There are plenty of handspinners out there who have made beautiful skeins of yarn without a designated purpose. Beauty for beauty's sake.  They look lovely hanging from a peg on the wall, or curled up in a basket. But let's face it, you can only have so much decorative yarn sitting around.  How do you use it? Let's take a tour of some of the Fiber Arts!
WEAVING
It's been said that six spinners are required to keep one weaver working on the loom. Weaving requires a lot of yarn!  A lot of Fiber Festivals, like the Estes Park Wool Festival, or the Taos Wool Festival, have Sheep-to-Shawl contests which keep in mind the spinners to weavers ratio.  The teams usually consist of 6-7 people, with one weaver and the rest spinning the yarn.  The goal is to card, spin, and weave wool for a shawl in a set amount of time, competing both for speed and for quality. The weaver is constantly demanding more yarn, trying to finish on time, while spinners are speeding along and usually chatting with the public while they work. One spinner can certainly produce yarn for her own weaving, but it may take 6 times as long to get enough yarn spun!
KNITTING
Knitting is probably the most common use for handspun yarn. If you are a knitter but you have never knit with handspun, you need to treat yourself. The yarn feels "alive," in a way that commercially spun yarn never does. Elasticity, healthier fibers which have never been drenched in acid, healthy well-kept sheep, careful choice of fibers by the handspinner to make a quality yarn– all these factors make handspun a very different experience from the typical brand name stuff.  If you are spinning for yourself, you have complete control over your end product. Color, texture, thickness, elasticity, and softness can all be controlled by the spinner.
If you're new to knitting, check out our page "What Is Knitting?"
CROCHET
Crocheting uses more yarn than knitting, so it is less common with handspun. One of the most elegant uses of textural, beautiful yarns is the freeform crochet technique known as "scrumbling,"  or "scumbling." These terms are occasionally used for freeform knitting, as well.  Scrumbling has a sculptural appearance, using the colors and textures of fancy yarns to make an art piece with fiber. It is suitable for framing in smaller pieces, or can be used for Art to Wear clothing.
Felting with wool has become a very popular form of fiber arts in the past few years. Needlefelting, wool yarn felting, and wet felting are appearing all over.  Wet felting is probably the oldest fiber art known to man, as it happens naturally when any protein fiber is wet and agitated.  Imagine a caveman finding tufts of fur on a tree branch where some creature scratched.  It's soft, and warm, and his toes are cold in the skins he has tied around his feet. He tucks the fur around his toes, they warm up. He walks around and the moisture from his now warm skin plus the rubbing of his toes on the wool equals felt.  Next time he takes his foot coverings off, the wool is now shaped like his toes, compacted but still warm, and durable.
EMBROIDERY
Embroidery with handspun yarn is not common.  It takes a very careful fiber preparation to make a shiny, durable thread that is capable of being pulled in and out  of fabric many times in stitching.  It can certainly be done, of course. Centuries of embroiderers before the Industrial Revolution prove it!  Wool, spun with the worsted technique, or silk from combed tops (a preparation with very straight, parallel fibers), or tightly spun mohair can all be used for beautiful embroidery.
OTHER FIBER ARTS
Although the focus of this page is on handspun slow yarn, handspinning is just one of the fiber arts.  Many of the same skills, materials, and tools are also used for other forms which rarely use handspun yarn.
BASKETRY
Weaving, twining, twisting, tying… all of these actions are in common with all fiber manipulation. Basketry appeals to the same primal instincts that spinning does.  It is useful. It takes "nothing" and makes it "something."  It is beautiful. It is meditative. It is creative, and that need to create is universal in human beings.  Besides, where else are you going to store all your handspun yarn?
All baskets are handmade.  No machine has been invented yet which can weave a basket.  Anybody can make a simple basket, with just some basic instruction, but to make a beautiful and durable basket there is some considerable skill involved. Every twig or vine comes from a plant, and has its own characteristics. The materials are not always cooperative with the basketweaver, so she must be always adapting in ways machines cannot.
BEADING
Beading, other than simple stringing, is closely intertwined with other fiber arts. Used as surface embellishments, as a form of off-loom weaving, or as a sculptural medium, beading with all sizes of beads has blossomed into a unique form of Fiber Arts.
SURFACE EMBELLISHMENT
A broad category which covers beading, fabric painting, embroidery, or some combination of those, surface embellishment is any way of changing the surface of a textile to make a more decorative or artistic end product.
LACEMAKING
Traditionally linen thread, made from the flax plant, has been used for lacemaking of all types. The crispness of the thread keeps the lacy holes open for an airy, clean look.  Linen can be bleached to the snowy white that most people associate with lace. As a handspinning fiber, it is not difficult to get a fine, even thread from flax that is suitable for lace.  Bobbin lace, needle lace, or crocheted lace are all beautiful with handspun linen.
TATTING
Another lacemaking form, tatting deserves its own category. It is actually a series of knots in thread, similar to the larger technique of macrame. Because a great deal of wear happens on the thread as the core is pulled through the knots, the thread used must be very smooth and durable. Mercerized cotton is by far the best thread for tatting.  Commercial thread does have its advantages sometimes, with its bland, uninteresting smoothness!
PAPERMAKING
Not a yarn or fabric at all, papermaking still deserves a place in any discussion of handmade fiber art.  Most of the cellulose fibers used in spinning can also be used for papermaking.  Cellulose has an almost magical property of clinging to itself, fiber to fiber. When the  long strands of cellulose fiber are broken down, suspended in water, then redistributed and dried– voila! Paper is made.  This means that anyone raising their own fibers for handspinning can also use some of the shorter waste to make a beautiful, textural paper that can be the basis for some unique art projects.
QUILTING
Because quilting is not made with yarn or fiber, it is in a category of its own for fiber art.  But many of the same techniques used with yarn can be applied in quilting as well. Dyeing, hand painting, and color application are vital elements in a beautiful modern quilt.  Texture and shading are important as well.  The creative use of yarn or dyed fabric in a quilt can make it stand out as a stunning painting in cloth that Grandma would never have dreamed of!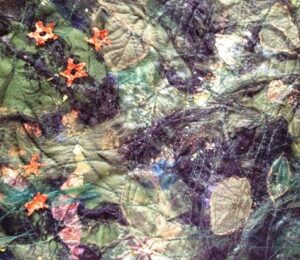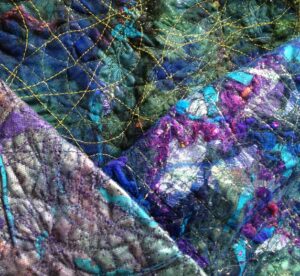 Comments are always welcome here at SlowYarn! Tell us what you think, share your ideas, or comment on the content. Or you can contact me directly at Kelley@SlowYarn.com.  
Thanks!
–Kelley
Copyright ©  2013-2015 Kelley Adams.  All rights  reserved.
All text, photos, and graphics are the property of Kelley Adams, unless credit is given to an alternative source.