Knitted Lace: Shawls and More
Lace knitting is so beautiful and complicated, a lot of knitters are afraid to even attempt it!  If you knit at all, though, you should give it a try. It's amazing how simple knitted lace really is! It's only a combination of very basic stitches, and once you understand the way each stitch relates to the others you can create your own lace knit patterns. Eunny Jang, who teaches an excellent beginner class through Craftsy, says, "It's amazing to me what two sticks and some string can make!"
Lace knit shawls, such as the Estonian knits or "Wedding Ring Shawls" from the Shetland Isles, are delicate and ethereal pieces of art which have never gone out of fashion. The "Wedding Ring Shawls" were made from yarn spun so fine and light that the finished shawl could be drawn through a wedding ring. Usually fine wool or cashmere lace-weight yarns, these shawls are truly timeless garments.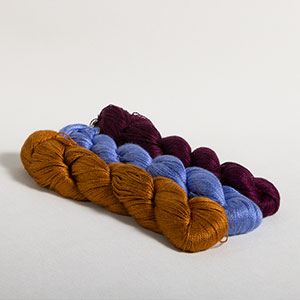 Luminance Lace Yarn – $10.99
from: Knit Picks
Lace knitting patterns have also been adapted for household use in the form of tablecloths, bedspreads, and doilies. Some of these look a little bit dated to our modern eye but are great household accessories for Victorian style homes.
For more information, there are a number of excellent books available to see examples, learn the basics, and understand the lace knitting design process. Here are some of my favorites. Click on the link to learn more and to support my blog!
---

If you're interested in learning more, check out this beautiful Etsy shop called Heirloom Knitting.  I am  not  affiliated–I just think it's worth mentioning!
---
Comments are always welcome here at SlowYarn! Tell us what you think, share your ideas, or comment on the content. Or you can contact me directly at Kelley@SlowYarn.com.  
Thanks!
–Kelley
Copyright ©  2015-2022 Kelley Adams.  All rights reserved.
All text, photos, and graphics are the property of Kelley Adam unless credit is given to an alternative source.