Welcome to the SlowYarn.com Blog!
Handspinning, dyeing, eco-printing, being an artist in a crafting world, wool allergies… if it has to do with fibers I'll probably write about it!
Check out the rest of SlowYarn.com. There are lots of informative articles, with lots of sources for cool natural products for do-it-your-selfers, crafters, artists, and appreciators of art.  Any of the ads you see on this site are for companies I've worked with and love. If you think they're great, too, and make a purchase then it provides a small commission to help me keep this site up and running. Thanks!
Follow the menu above, or click here to start with About Slow Yarn.
Follow the links below to read a wide variety of articles about Fiber Arts.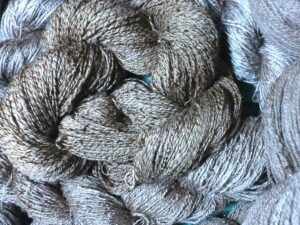 Ten Things You Really Need to Start Keeping Sheep