2018 UPDATE: Laws regarding Hemp production in the United States have changed drastically since this article was originally written. As of 2018, many states have legalized Cannabis in both the hemp form and the marijuana form, making hemp more readily available here in the US. Click Here for a site about the legalization of hemp.
Eco-friendly fibers mean more than a label.  In this modern age of technology and quick results, there are always a few people who are keeping alive the old ways of doing things. Maybe it's a hobby, maybe it's a passion, or maybe it's a family tradition, but they learn and carry on a slower way of producing. Many are organic, but all of them take more time and care to create products with less impact on the environment. There are communities of handspinners all over the world, making natural fiber yarn from raw materials. Small, sustainable farms and ranches are providing a lot of the eco-friendly fibers that create handspun slow yarn.
WOOL
One of the most popular fiber for handspinning is wool.  Often a family operation, raising sheep for the handspinners market involves a close relationship with the animals that are producing wool.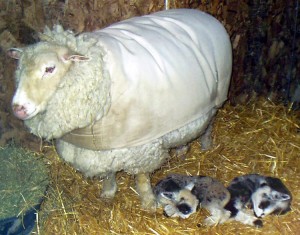 This Polypay cross ewe just had spotted twin lambs. Notice her jacket, keeping her full fleece clean.  This is the kind of care taken by sheep producers who are focusing on the Slow Yarn market.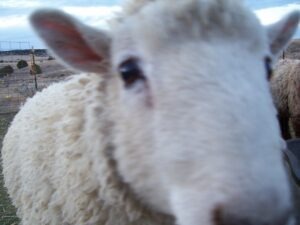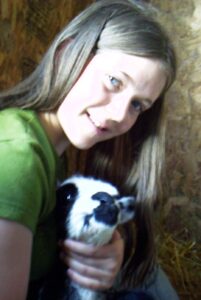 When sheep are raised in a handspinner's flock they often have names and are kept more like pets than like livestock.  Great care is taken by their owners to provide quality care based on the individual needs of each sheep. Colored fleeces have been bred out of large commercial sheep operations for hundreds of years.  It is a modern innovation to begin breeding sheep specifically for their beautiful, naturally colored wool again.  This breeding has been fueled solely by the slow yarn movement, and colored sheep fleece is in high demand with handspinners across the globe.
Did you know that the term "black sheep of family" refers to the practice of culling any sheep with colored fleece?  This is because white wool takes a dye more brilliantly, which traditionally meant the wool had a higher value.  The modern eye, however,  finds great appeal in the rich muted natural tones of grey, brown, or black wool. Handspinner's flocks frequently breed for color, rather than for white.
Wool is a type of protein fiber. Because of characteristics of the individual fibers of wool, it is prone to grab together, or felt. In fact, wool felts better than any other protein fiber. This is both a good trait and a bad trait. Not so great if you toss your sweater in the machine washer and it comes out half sized, but a wonderful thing if you want a durable, compact surface on a blanket or a tote bag, boot linings, or any number of other products made from wool felt.
Handmade felt from wool has become a medium for fine art in recent years, as well. The qualities that make wool bond together as felt make it ideal for sculpture, as well as for two-dimensional painterly art. Wearable art showcases wool, and some large installation sculptures use wool felt as the medium.
MOHAIR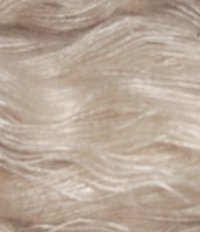 Mohair is from the Angora Goat. People unfamiliar with Angoras might wonder why "that sheep with the horns is so skinny." These amazing creatures produce two long, lustrous fleeces per year, compared to just one from sheep. Also bred for many ages to be pure white, the colored Angora is making a comeback within spinner's flocks.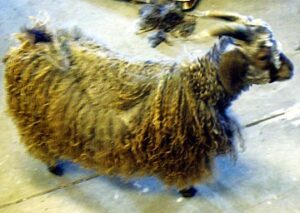 Kid mohair is the finest angora fleece, from the first two shearings of a young goat.  Its softness, combined with the natural shine and durability the fiber is known for, makes beautiful fabric for clothing, characterized by a soft halo.  As the goat gets older, mohair gets coarser and is more appropriate for upholstery fabrics or rugs. Mohair's durability and fire resistance make it the fiber of choice
for car interiors, including race cars. Just like sheep, the Angora goat is a common member of the spinner's flock.  These hardy little animals are much more docile than most goat breeds, do not climb, and the males smell a whole lot less, too. They have charming personalities and have been part of the family flock living in close proximity to people since before Biblical times. In fact, the "flocks" mentioned in the Bible were probably Angora goats, not sheep.  Now, they are a vital part of the Slow Life Movement, as they are very productive and easy to keep.