There is a gray-haired lady, graceful and attractive, sitting in the waiting room with her head bent down, unabashedly sporting a protruding magnification visor which gives her the incongruous air of a mad scientist. Her intense focus is on the small object in her hands. If you get close enough, you can see that her attention is on a tiny Oriental rug, appearing in miniature perfection inside a little wooden frame. What is this magic?
This is Sue Resseguie (pronounced rez-uh-ghee), a Fellow in the International Guild of Miniature Artisans who specializes in miniature needlework, following her passion. She is creating an Oriental rug on a scale of 1′:1″, which means that one foot of the original rug is represented by one inch of her work in a perfect, tiny reproduction. She is working her stitches on even-weave silk gauze with a remarkable 48 stitches per inch, although she is somewhat apologetic that her eyesight won't allow her to do smaller than 56 stitches per inch anymore. Some of the artists who stitch these tiny creations, she says, insist that true miniature reproductions must have 120 stitches per inch; even the magnifying visor won't allow her to do such miniscule work these days. Her goal, and that of many of the members of her online petitpoint group, is to create a perfect miniature reproduction of original Oriental carpets or rugs.
Sue's process begins by choosing an original that is interesting enough and pretty enough to stare at in miniature for many months of stitching. The "Canton Rug," shown here, is one that she picked almost a year ago. Using the software Patternmaker Pro, she imports a scanned photo of the original and goes to work creating the graph from which she will work. Here is a description of her design process, in her own words:
"I can't do a design out of my head, so I need an original to work from, and I usually find those in various places on-line. Patternmaker allows me to import a design, but in order to get detail, I need to start with far more colors than will be in the final graph. Then I simplify, pick the most important motifs to include, and begin to merge colors. If I begin with fewer colors, the program gives me a mostly grey graph with limited detail. The Canton has 11 colors in the palette. Stitchers don't like "orphan stitches," a single isolated stitch, so I try to eliminate those. It's a very time-consuming process."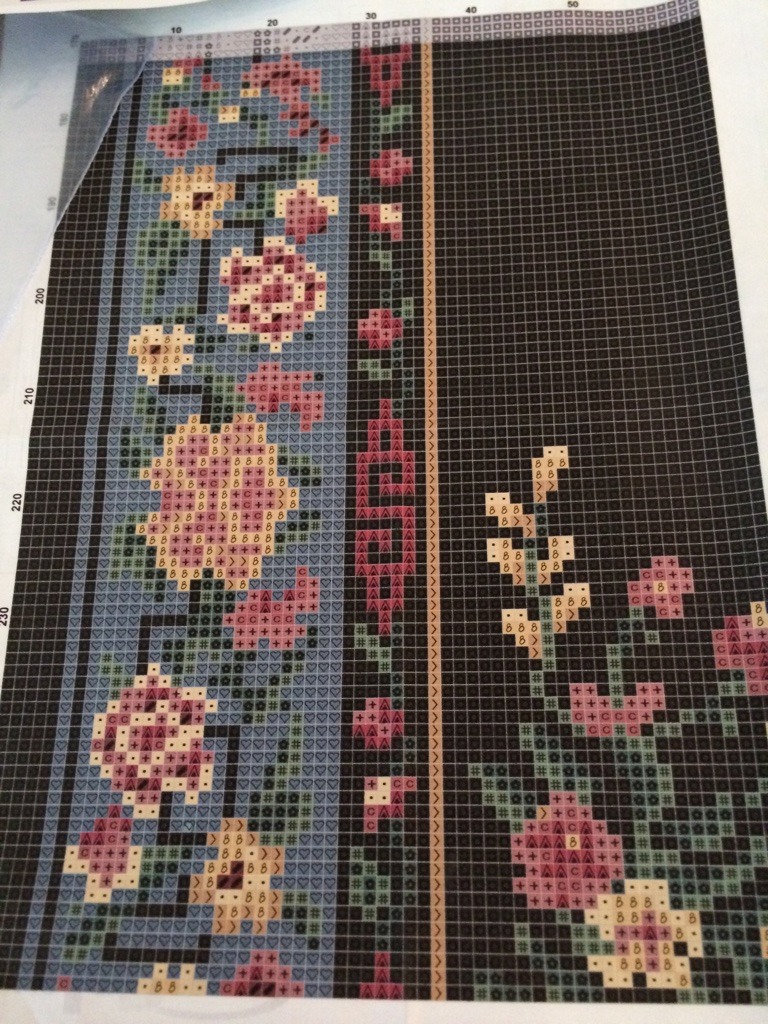 When the graph is complete and she is ready to stitch, Sue makes a little wooden frame for her work. It must be small, lightweight, and sturdy enough to hold her canvas taut and wrinkle-free and to be transported from place to place for many months. Small enough to tuck into a purse, her work can travel with her to surprising places like the airport or the waiting room for the eye doctor. She began stitching the
Canton Rug
in October; it is July, and she just completed this piece.
When the stitching is done, Sue donates her graph to her online support group for miniature stitchers, Petitpointers. This donation is always met with conflicting opinions, delighting members who enjoy stitching her designs but consternating those who create their own graphs to sell. Why does she choose to donate, instead of selling her high-quality designs?
"I love sharing my graphs, and seeing someone else have the joy of stitching them," she says simply.
This generosity is not new for Sue, who has consistently refused to sell her impeccable, tiny reproduction knitted sweaters over the years, choosing instead to trade them for other miniature work by IGMA Fellows or to donate her pieces to the annual auction in Castine, Maine, benefitting that group. Those who are familiar with her work value it all the more because they know how rarely one of Sue's pieces becomes available.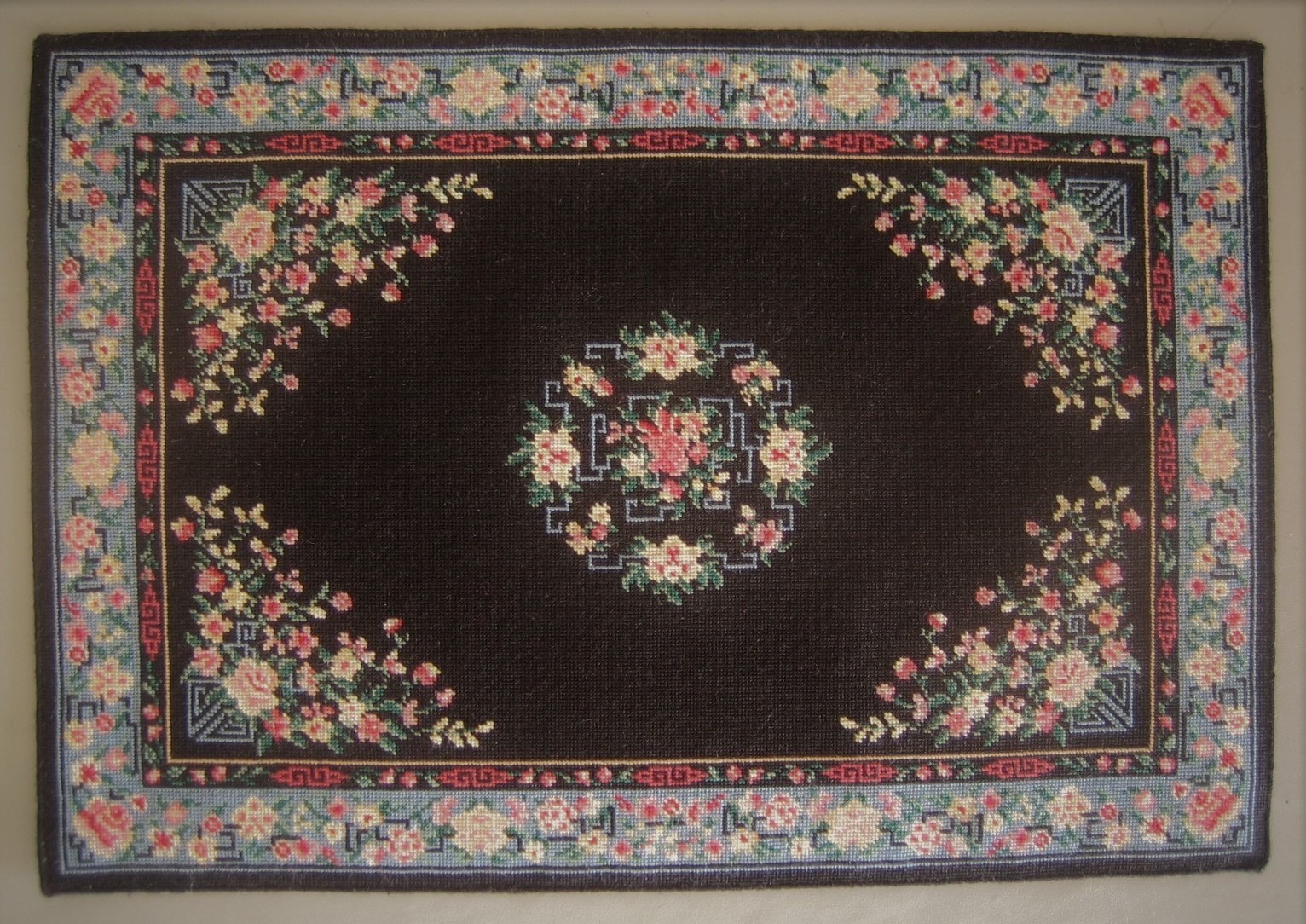 The International Guild of Miniature Artisans, or IGMA, is a group dedicated to promoting fine miniatures as an art form. They support and recognize exquisite workmanship in the creation of miniatures in all fields. The Guild offers classes teaching skills ranging from miniature wrought-iron to woodwork to sculpting the human figure… and, of course, miniature needlework. To be recognized as an Artisan within IGMA, a candidate must submit five pieces for judging. To become a Fellow, an Artisan must submit more work to demonstrate mastery of their techniques. Both Artisans and Fellows can teach at Guild School and Guild Study programs. Sue Resseguie has been an IGMA Fellow in the field of Needlework since 2004.
If you would like to learn more about creating your own miniature needlework, IGMA has classes at the Guild School each June in Castine, Maine, and they welcome people of all skill levels. All of their classes are classified as beginner, intermediate, or expert and the instructors are friendly and available for questions if you're not sure where you belong.  Click here for more information about the Guild School classes. Click here to contact "PetitPointers,"  the online group where Sue communes with fellow rug-stitchers, welcomes new members and they enjoy sharing their knowledge. The members of that group can also direct you to sources to purchase appropriate supplies and materials.
You'll find that you're not alone if you are attracted to miniatures. In Sue's own words:
"Some people are simply fascinated by tiny things that look like the real ones. That's me. I work in 1′:1″ scale and try to make things as realistic as possible, whether it's with a needle or a saw. I love a challenge, and I appreciate the work of others who have met a challenge."


---

Comments are always welcome here at SlowYarn! Tell us what you think, share your ideas, or comment on the content. Or you can contact me directly at Kelley@SlowYarn.com.  
Thanks!
–Kelley
Copyright ©  2018 Kelley Adams.  All rights reserved.
All text, photos, and graphics are the property of Kelley Adams unless credit is given to an alternative source.