I've had an obsession with knitted lace since I was nine years old and my mother told me I had to get stockinette stitch right before I could move on to fancy knitting. Carpal tunnel symptoms have been keeping me from knitting at all lately, but when I saw these colors in superwash lace weight yarn from KnitPicks, I had to have them anyway. (I'm not above leaving yarn around just as decoration when it's this pretty.) What's more– it's on sale right now!

While I was getting the new yarn, I also decided to give KnitPick's FourSquare knitting needles a try. They are designed to ease hand fatigue and I have to say, I'm impressed! I've been knitting for a few evenings now, and my hands aren't going numb. Even better– they're almost as pretty as the yarn!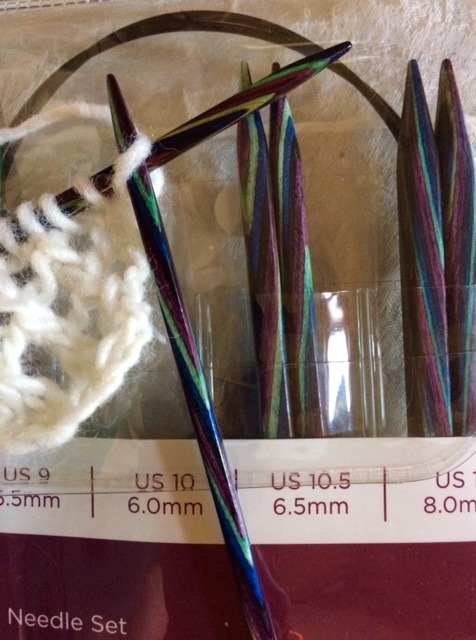 Without a doubt, the price was right, too. They have all the interchangeable knitting needle sets on sale right now at 20% off. You can see from the picture that these laminated wood needles are beautiful in their own right. I don't know about you, but I get a lot of pleasure out of using beautiful tools. These are from the "Majestic" color FourSquare interchangeable circular needle set. You can see the slightly squared needles which sit comfortably in the hands without pulling or twisting. The tips are round and just sharp enough for picking up lace stitches without splitting the yarn. I knit Continental, so that's sometimes a problem for me. 

If this post feels like an ad for KnitPicks, I guess it is. I'd never ordered from them before, but now that I have I couldn't be happier. Service was great, shipping was prompt, and the yarn is soft and luscious and true to the colors they advertised. I've gotten their catalog for years and never ordered. Their prices are so good, I guess I just didn't think they could have such great quality. I was wrong! Yarn and needles get a thumbs up from me.
I'll post more about the yarn when I get a little further along with my current project. I'm so happy to be knitting again!
Comments are always welcome here at SlowYarn! Tell us what you think, share your ideas, or comment on the content. Or you can contact me directly at Kelley@SlowYarn.com.  
Thanks!
–Kelley
Copyright ©  2018 Kelley Adams.  All rights reserved.
All text, photos, and graphics are the property of Kelley Adams unless credit is given to an alternative source.