Let's get up close with some wool, silk, and mohair Nuno felt fibers. Really, really close.
I always wanted to see the difference between types of fiber under a microscope, and got a chance today. You see, I live with a science teacher and I decided a few weeks ago that he really needed a microscope with a usb to hook up to his computer. He could show gross things to middle schoolers on the projection screen!. I got him one for his birthday and the kids loved it. Today, he left it at home. Hah! It was MY turn to play with his birthday present.
Here's a link to one just like it from Amazon. I paid more than this, but it's too late now. At this price, get one for everyone in the house!

I've been asked how Nuno felt works. It's pretty simple, really. Fibers get tangled. Wool, especially. The wool hairs will grab each other, and grab other fabrics that are sheer enough for the wool to work its way through gaps between threads. Wool shrinks when it does this, but other fibers like silk or cotton gauze do not shrink, so the wool will pucker up the silk or cotton as it gets drawn in by the wool. Nuno felt is a combination of fibers, using the shrinking property of wool.
I use either a layer of thin silk fabric or a very thin layer of wool fibers to start a piece of Nuno felt. Either way, the shrunken wool creates a surprisingly strong fabric.  Silk, mohair, or other fibers that don't shrink (or shrink less than wool does)  can be used as embellishments in this type of felt. I've got this box of thrift store silk finds, and it's lots of fun to rip up old nineties shirts and re-imagine them as texture in a Nuno garment. Here's the scarf I photographed today, up close and personal, with some detail shots: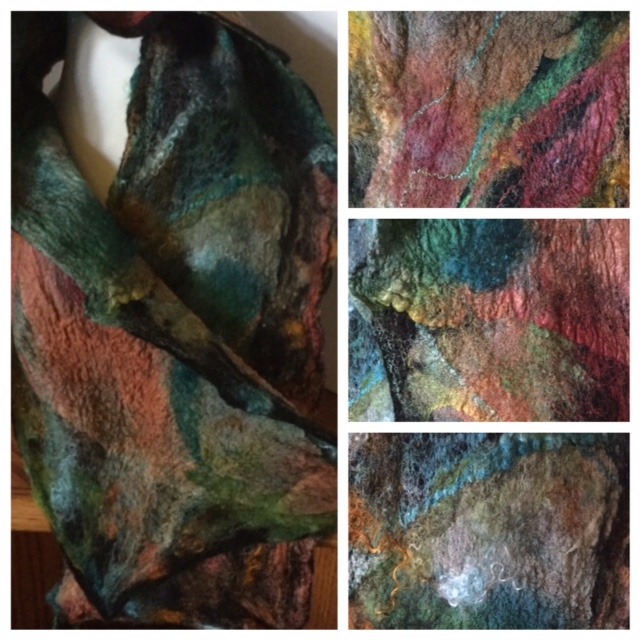 This was made with two thin layers of black-dyed Merino wool with silk fabric, Mawata silk "hankies," silk fibers, and kid mohair locks added on top of the wool. I love black wool under bright colors with this technique.
Nuno is a wet-felting process, with hot water and soap, along with a LOT of carefully controlled agitation. The goal is to get the wool fibers to grab through the layers of silk, and then to shrink and bond in the felting process. Just like the wool sweater you accidentally put through the regular wash load, it shrinks and gets thicker.
Using my guy's new birthday present, I checked it out up close, and took a lot of photos. Try to guess what each fiber is before reading my description below the picture!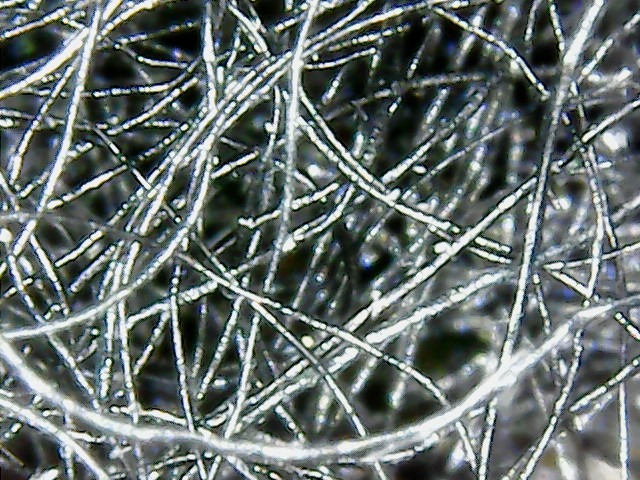 The "magic" fiber underlying the felt structure, these black dyed Merino wool fibers show just a little bit of their scales on the surface, which tangle and bond together after the felting process.
Silk gauze woven fabric after felting. It is no longer smooth, but puckered and held in place by those few black Merino fibers you can see here.
Bombyx silk (which is the type of silk created by silkworms eating a diet consisting solely of Mulberry leaves.) This is undyed, before felting, from a silk "cap," sometimes known as Mawata silk. It is made from many layers of cleaned and expanded silk cocoons.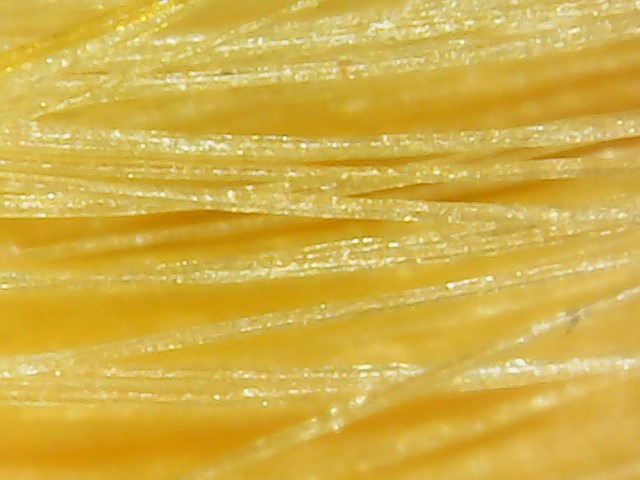 This is an orange dyed kid mohair lock, showing its shiny, smooth fibers all aligned and perfect. I got a huge assortment at the Salida Fiber Festival a couple of weeks ago from some great people. Naumann Angoras, from Bandera, Texas, had one of the nicest assortments of mohair locks I've seen available. I was a kid in a candy store! This is just a little of what I got from them: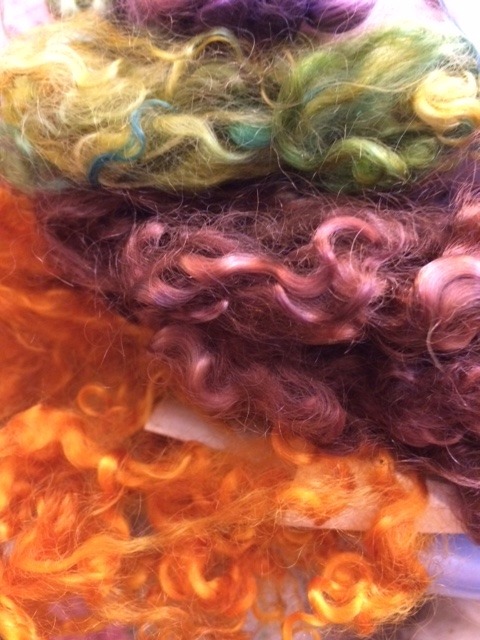 So, you've seen the basic fibers I used in the felt. Now, let's take a look at them after felting!
I love this shot. See the two mohair fibers hooked together right in the middle?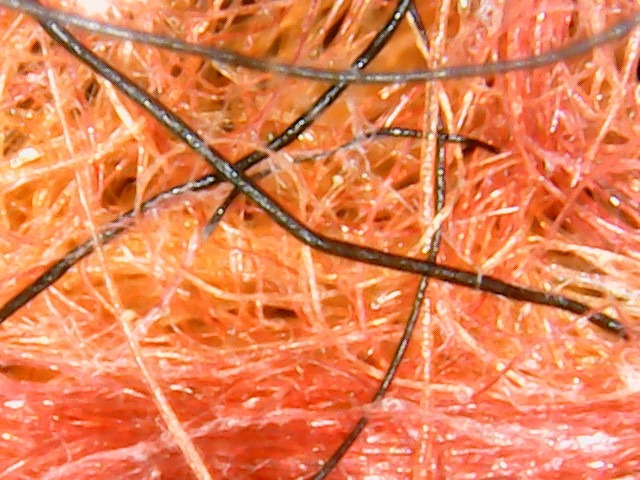 You can see that the black Merino wool is rougher and crimped, and how it weaves itself in and out of the smoother silk.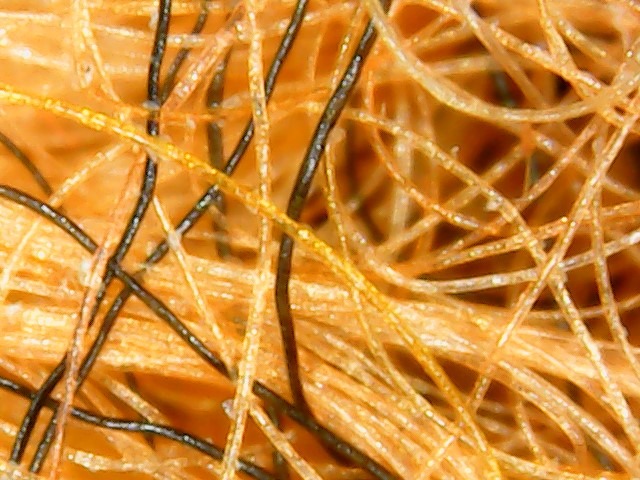 That smooth mohair resists felting. You can often see a lock rebelling against the felt and popping out, at least on one end, its little curls waving in the air. The fibers are thicker and stiffer than silk, so it's harder for the wool to grab it and tie it down.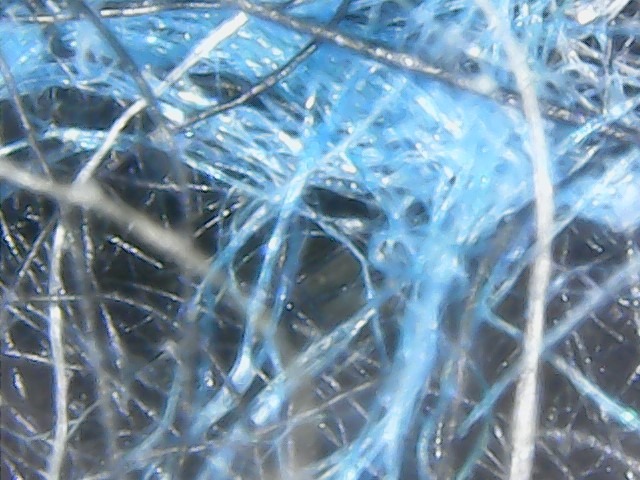 The wool has more variety in thickness than the silk. It's really grabbing on to this teal silk, which was from a stretched out dyed silk cap.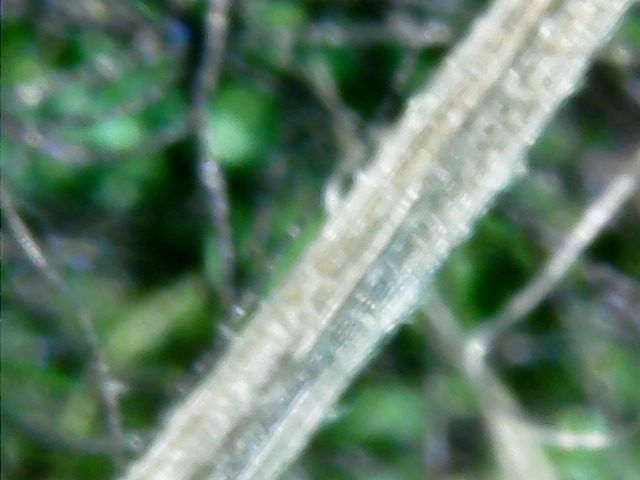 Whoa! What do you think that monster is?
Hehe. People who pick out "VM" from wool fleeces for their spinning or felting might recognize this tenacious little bit of grass which survived washing, picking, carding, dyeing, and felting to show up here under the microscope.
My last micro-picture shows that my artwork does NOT come from a pet-free environment. Can you spot the Hound Hair in this picture?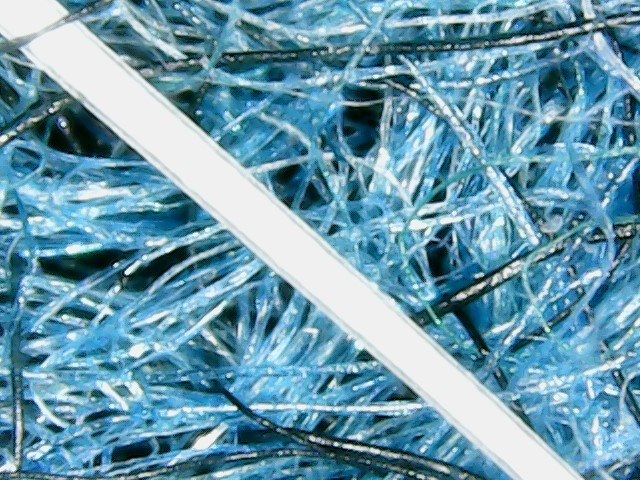 Henry says he's sorry.
I hope you found this as interesting as I did! It was a surprise to me that the scales on the wool weren't more obvious under magnification, since I know that they are responsible for the magic of felt. I love the translucence of the silk fibers, and the way the colors showed throughout each fiber on the dyed silk. And check out this microscope! Who knows what you can find to examine up close!
---
Comments are always welcome here at SlowYarn! Tell us what you think, share your ideas, or comment on the content. Or you can contact me directly at Kelley@SlowYarn.com.  
Thanks!
–Kelley
Copyright © 2018-2020 Kelley Adams.  All rights reserved.
All text, photos, and graphics are the property of Kelley Adams.